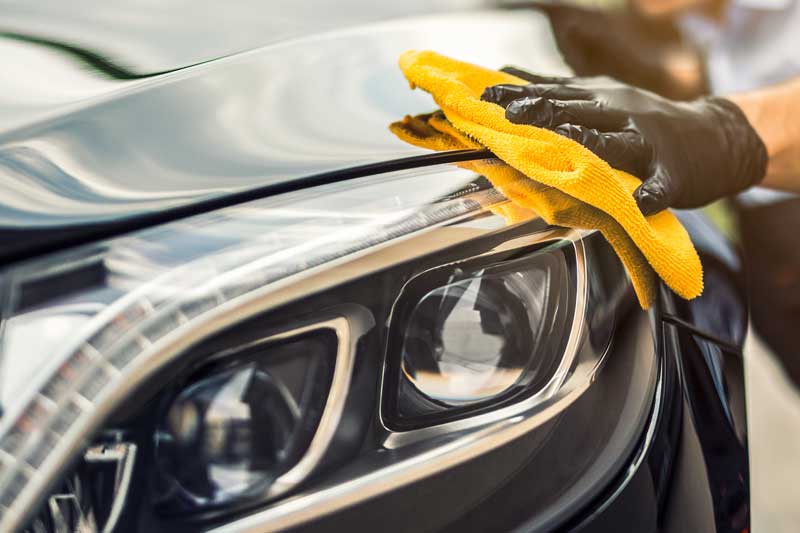 How To Prepare Your Prestige Vehicle For Concours Judging
The concept of Concours judging, also known as Concours d'Elégance, came about more than 60 years ago, as a way of exhibiting the most exquisite, elegant, well designed and well-maintained cars of the day.
Those judging are required to have an in-depth knowledge of different makers, models and as well as a firm understanding of vehicle engineering.
 So how can you make sure your vehicle is up to scratch?  
The team at Exclusive Auto Centre know better than most that preparing your vehicle for Concours judging can be a long and arduous process.
Having spent a long time polishing, detailing and crafting the perfect vehicle – one that has quite literally become your prized possession, it's time to put it on display and show the judges what an exquisite vehicle it truly is.
 But what does the preparation really entail? 
We've put together a timeline for owners competing in a Concours event, and to be completely transparent, this is no easy feat.
Check out the steps below:
In the months before the event:
Repair or replace broken or worn parts and trims
Touch up paint chips
Have any dents removed by a paintless dent repair expert
Clean and waterproof cabriolet tops
Order all cleaning products and tools you need
Clean the spare tyre
Detail the tool kit
In the weeks before the event:
Prepare the paintwork – claying, polishing and waxing
Undertake an initial engine clean (not needed if the event is a Wash & Shine)
Clean all leather – you may need to do this a number of times
Clean and dress interior surfaces – plastics/vinyl
Clean the battery and adjacent area
Restore the cabriolet top plastic window
Initial clean of storage areas
Clean and dress rubber trims
Clean, polish and wax door jams
Ensure alloy wheels are immaculate
Clean everywhere including under the seats, seat belts and recesses, under the dash, in the air vents, door panels and pockets, door jams and sills, door locks … everywhere!
1-2 days before the event:
Clean every part of the engine bay and hood and ensure it is dry and dress rubber hoses and plastics
Apply protective treatment to metal areas
Wash the car including the underside of the doors and seals
Thoroughly clean all the windows
Dressing external rubber and vinyl
Clean and condition all leather
Clean and dress the dash, instruments and all consoles, pedals, carpets and mats (maybe take out for the judging), roof liner, mirrors and sun visors, and any grab handles
Final interior vacuum – carpets must be 100% clean and lint free
Final vacuum and inspection of storage areas including the spare tyre and tool kit
Remove watermarks from all door frames, door jams, hoods, badges, lights, wipers, number plates, petrol cap area and rubber seals
Alloy wheels must be immaculate including lug nuts
Tyres must be cleaned and dressed without leaving a film
Below is the list of the key event dates for Australia:
12 September 2021: Mercedes-Benz & Concours dÉlegance Anniversary Special Event: Kedron AFL Football Ground, Kedron QLD
19 September 2021: All British Day Queensland: St Joseph's College Sports Grounds QLD
26 September 2021: Bay to Birdwood Concours d'Elegance and Preservation awards: National Motor Museum, Birdwood SA
26 September 2021: Concours d'Elegance ACT
26 September 2021: Club Maserati Show and Shine Hunter Valley: Nicita Estate, Hunter Valley NSW
17 October 2021: All British Day Sydney: The King's School North Parramatta NSW
18 October 2021: National Concorso: Ferrari Club Australia: Gold Coast Turf Club QLD
6 November 2021: Braidwood Country Concours d'Elegance – a mental health charity event: Braidwood Servicemens Club & Golf Course, Braidwood NSW
3-5 March 2022: AXA Sydney Harbour Concours d'Elegance: Swift Mansion: Sydney NSW
7-9 October 2022: Motorclassica: Melbourne VIC
https://www.exclusiveautocentre.com.au/wp-content/uploads/2019/04/detail.jpg
533
800
exclusiveauto
https://www.exclusiveautocentre.com.au/wp-content/uploads/2019/05/logo4.png
exclusiveauto
2021-08-20 02:24:36
2021-08-20 03:53:22
How To Prepare Your Prestige Vehicle For Concours Judging